Walberswick to Southwold Ferry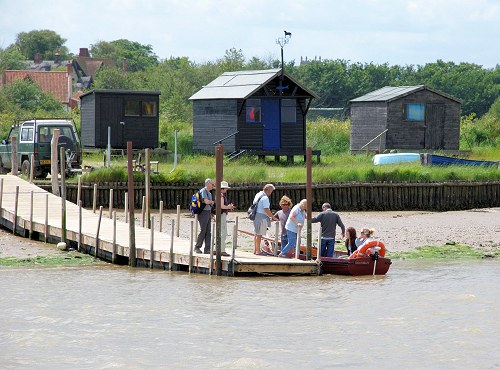 For a small charge a traditional rowing boat - based on the Suffolk punt design - can ferry adults, children, dogs, bicycles, buggies and pushchairs across the river Blyth to and from the Walberswick and Southwold banks. The ferry operates on various dates within the popular high summer holiday weeks, as well as during the school holidays of Easter and half-terms, carrying up to 12 passengers at a time. This way of crossing the river is an alternative to walking inland to the Bailey Bridge footbridge - see The Walberswick Map.

Walberswick Ferry 2020 Operating Times and Fares
30th March – 31st March
Closed
–
6th April – 26th April
Closed
–
27th April – 25th May
Closed
–
1st July – 27th September
Daily Service
10am – 5pm
28th September – 25th October
Weekends only
10am – 5pm
26th October – 31st October
Daily Service
10am – 5pm
31st October – 19th December
Weekends Only
(weather dependant)
11am – 3pm
19st December – 3rd January 2021
Every Day except Christmas Day and Boxing Day
(weather dependant)
11am – 3pm
23rd and 24th December
There will be a special guest driving the boat!
11am – 3pm
Operated on demand so will just take you across when you turn up, no need to book.
Fares: £2 per adult,
£1 children aged 6 to 18,
£2 per bicycle. Dogs and children under 5 welcome free of charge.
Buggies and pushchairs welcome too.
The above times can change occasionally due to extreme weather and tide conditions.
The Southwold to Walberswick Ferry is licenced by Waveney District Council.