General Interest Walberswick Links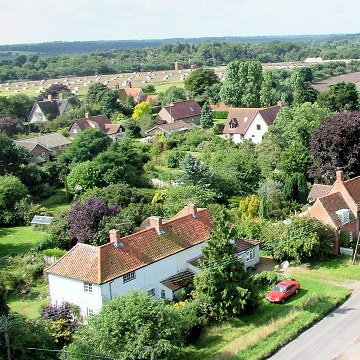 Walberswick village from St. Andrew's Church tower
Round Tower Churches
This area certainly has some wonderful churches. An East Anglian speciality is the Round Tower church. Of the 42 of these in Suffolk several are in this area - for example Bramfield (where the tower is uniquely detached from the church - see www.bramfield.net), at Holton, Frostenden and also at Thorington, to name but a few.
[ website ]
'Waverley' And 'Balmoral' Pleasure Steamers
Website for these famous pleasure steamers which, as well as operating other UK trips and services, also sail from Southwold (either to London or on a local cruise).
[ website ]
RNLI Southwold Webpage
Dedicated to saving lives at sea and funded almost entirely by donations, the Royal National Lifeboat Institution relies on volunteer crews to man lifeboats and provide a 24 hour service around the coast of the UK and Republic of Ireland. This is their page about the Southwold station (located at Southwold Harbour).
[ website ]
Selling A Wife In Blythburgh
How times change! This interesting snippet dates from 1789.
[ website ]
Charles Rennie Mackintosh
In 1914 the Glasgow-born architect, designer and painter Charles Rennie Mackintosh (1868-1928) spent a restful year in Walberswick. He is just one of many notable artists to have benefitted from a stay here. This link is to the website of the Charles Rennie Mackintosh Society where you can learn about this influential and creative genius.
[ website ]
Road Accidents Involving Deer
This area of Suffolk has its share of wild deer which can be seen on the fields or in Dunwich Forest. (Watch out for the increasingly common small Muntjac). Deer can though stray onto the roads and lanes with a resulting road traffic accident. This website link goes to an on-going research project which is collecting data nationwide on traffic accidents involving deer. Since the project began in 2003, over 30,000 incidents have been recorded.
[ website ]
Railway Connection To Southwold - The Story Pre 1879
Much has been written about the Southwold Railway, which operated 1879-1929 from Halesworth to Southwold with stations at Wenhaston, Blythburgh and Walberswick. Here, David Lee tells of pre-1879 attempts to establish a rail connection.
[ website ]
Blythburgh In 1792
Read Alan Mackley's report of Blythburgh in 1792, including the names of some of the inhabitants.
[ website ]
The Suffolk Sandlings
Areas of this part of north-east Suffolk, including Walberswick and Wenhaston, feature some lovely lowland heath - some of Britain's rarest habitat. Learn more about these remnants of the once extensive Suffolk Sandlings on these webpages from Suffolk Wildlife Trust.
[ website ]
Roadside Milestones
The roadways of north-east Suffolk feature many old milestones, signs that these routes have been unchanged for centuries. This is the website of The Milestone Society and features a wealth of information about milestones nationwide.
[ website ]
Crime Around The Blyth
One of the Blythburgh History Notes (available on www.blythweb.co.uk) in which Wenhaston's Local History Recorder, Keith Johnceline, shows that this area is no stranger to Crime.
[ website ]
William Morris And Blythburgh Church
Alan Mackley's interesting article about William Morris (1834-1896) and Blythburgh Church.
[ website ]
Blythburgh Village
Blythburgh is on the A12 near Southwold and Walberswick, with the landmark Holy Trinity church, beautifully floodlit at night.
[ website ]
The Poaching Priors Of Blythburgh
Poaching by Priors and others involving Westwood warren and Walberswick in this interesting article by Alan Mackley.
[ website ]
Humphrey Jennings - A Genius Of The British Cinema
Bill Barrett gives a short account of Walberswick-born Humphrey Jennings.
[ website ]
Artists In Walberswick
Artists of all abilities have resided in Walberswick, some more well-known than others. This History Note names just some of them.
[ website ]
Black Shuck At Blythburgh
In 1577 the evil dog Black Shuck is said to have terrified the congregation in Holy Trinity Church, Blythburgh, leaving death, destruction and claw marks in its wake. This item collates reports of phantom dogs throughout the UK.
[ website ]
Suffolk Wildlife Trust
With more than 60 nature reserves throughout Suffolk the Suffolk Wildlife Trust works to protect the County's wildlife. Local branch at Southwold.
[ website ]
Tide Tables For Southwold
Tidal information for Southwold, from the BBC
[ website ]
Southwold Railway
The Southwold railway operated between Halesworth and Southwold 1879-1929, stopping at stations at Wenhaston, Blythburgh and Walberswick. This is the website for the enthusiastic Southwold Railway Trust, full of lots of information and interest. The Trust run a great shop and office (staffed by volunteers) at 27 High Street,Southwold, where you are most welcome to call in and find out more.
[ website ]