Places to Go Walberswick Links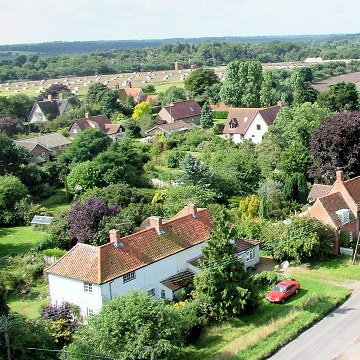 Walberswick village from St. Andrew's Church tower
New Cut Arts, Halesworth
The home of New Cut Arts is created from an old maltings building, close to the centre of Halesworth. A wide variety of theatre, concerts, films, exhibitions, talks, performance arts, and more, takes place here all year round. Handily located near the town's train station.
[ website ]
Walpole Chapel
On B1117 at Walpole near Halesworth. With the appearance of a Suffolk farmhouse (albeit one with gravestones outside!). Walpole Chapel is Listed Grade II* and has great character. Historic interior with wonderful serene atmosphere. Now in the care of the Historic Chapels Trust. See website for opening times and details of events held here.
[ website ]
Halesworth Golf Course
A wide range of top class golf facilities, including pay-and-play, tuition, shop etc. Golfers of all abilities welcome. Restaurant open seven days a week.
[ website ]
Halesworth Gallery
The Halesworth Art Gallery Association (founded 1966) occupies part of the lovely historic almshouses building in Steeple End, standing alongside St.Mary's Church. Exhibitions. Art for Sale.
[ website ]
Reydon Wood
Grid ref TM476788. Ancient coppiced woodland in the care of Suffolk Wildlife Trust, off B1126 (Southwold to Wangford road). Can be muddy underfoot. Known for carpets of bluebells in spring. Limited parking.
[ website ]
Hen Reedbeds Nature Reserve
Grid ref TM470770. A Suffolk Wildlife Trust Reserve, created in 1999. Wetland habitat. Car park, information board and trail to bird hide. Just off A1095 (the road linking Southwold to A12 north of Blythburgh). You may see marsh harriers or the wild ponies!
[ website ]
RSPB Minsmere Nature Reserve
The Royal Society for the Protection of Birds works for wildlife as well as birds. Minsmere Reserve is around 2,500 acres, acquired in 1947. Admission charged to non-RSPB members. Shop. Tea room. Visitor Centre. Events. Free car park. Located on the coast south of Dunwich, near Westleton.
[ website ]
Halesworth Millennium Green
Community Open Space and Heritage Area. Map on website. Geocaches. Orchard. Encompassing restored areas along the route of the Halesworth to Southwold Railway. At over 50 acres it is the largest Millennium Green in England! Work party volunteers welcome!
[ website ]
Steamworks
An ongoing project by Southwold Railway Trust at Blyth Road, Southwold IP18 6AZ on land close to the site of Southwold Station. Features include railway, engine shed, museum, visitor centre, refreshments, shop and nature reserve. Parking for Blue Badge holders. Come along to an Open Day to find out more.
[ website ]
National Trust Dunwich Heath
Coastal clifftop heathland which has been In the care of National Trust for over 50 years. Shop. Tearoom. Lookout. Events. Car parking charged for non-NT members. Adjacent to RSPB Minsmere,
[ website ]
Southwold Museum
In the 1930s two historic cottages in Victoria Street were gifted for the purpose of housing a museum. Southwold Museum features exhibits relating to Southwold and the surrounding area.
[ website ]
Dunwich Museum
Dunwich Museum is a history experience for all the family, telling the true story of the city of Dunwich being lost to the sea.
[ website ]
Model Yacht Regattas
Established 1894, for yachts under sail-power only (no motorised craft). Hire a club boat for a day at low cost. Regattas take place at the Southwold Model Yacht Pond (opposite Pier) May to August inclusive. Great fun for competitors and spectators.
[ website ]
East Suffolk Line Walks
A collection of walks varying in length which link rail stations along the East Suffolk Line (Ipswich to Lowestoft). For the more ambitious rambler, join these up to total a 70-mile trail.
[ website ]
Escorted Wildlife Watching Days Out
Escorted wildlife watching at a range of locations - reserves, public land and private woodland. Personal Service. Catering included.
[ website ]
Dingle Marshes
On the coast between Walberswick and Dunwich, this reserve is a partnership of Suffolk Wildlife Trust, RSPB and Natural England. Grid ref TM479708.
[ website ]